Shimmer Grant Reviewer Test challenge
To give the community a better view of the capability of the applicants of the Shimmer Grant Committee to make educated decisions on Grant proposals, I developed a little challenge.
I searched for Grant proposals in other Projects that would fit and could be submitted precisely like that to the Shimmer Grant committee. I found a lot of good examples in the Polkadot Treasury proposal program and selected two proposals for this purpose.
Proposal 1: A very technical focussed proposal for Node APIs, Key management systems, and Infrastructure that requires an excellent technical understanding of DLT Protocols to review.
This is the original Proposal submitted to Polkadot and approved in 2022 by the Polkadot treasury committee for a Grant of 60000 USD: Crypto APIs Polkadot Spending Proposal.
Proposal 2: A more community and Builder/Event focussed Proposal for a Hackathon that does not require deep technical knowledge of the Protocol as a developer.
This is the original Proposal submitted to Polkadot and approved in 2022 by the Polkadot treasury committee for a Grant of 90000 USD:
EasyA x Polkadot - Hackathon Proposal for Discussion
The Challenge:
I took those two original proposals and modified them:
Removed all traces that would lead readers to figure out it was submitted to Polkadot and replaced all Polkadot Mentions with the respective Shimmer wordings.
Created three versions of each Proposal:

An underfunded version
An overpriced version
The original version
Price changes have been established by altering the requested funding for certain project phases or reducing/increasing the daily cost basis in the project plans.
I asked our Grant reviewer candidates if they would agree to take part in this challenge on 19 November with this message sent out to everyone:
Hey, I want to challenge all potential Committee members with a little task.

I want to present you with a grant application and give you one week to come up with an opinion about this application based on the information provided to you. Please put anything that comes to your mind in your response to this message, and if possible, come up with an initial opinion if you would support funding this Proposal.

You may want to use the evaluation matrix developed for the Treasury committee: Shimmer Community Treasury Grant Committee - Version 2

The Proposal is a copy of an original proposal submitted to another Ecosystem Grant program.

I have chosen two types of applications, one that is a bit more developer oriented for the reviewers with experience in software projects and one that is more community/event focussed for the others.

Every Proposal is presented in 3 different versions. I have changed some parameters in every version, so your competitors may be presented with the same Proposal with some small but important changes to the original version.

I hope you agree to this little challenge. It may be interesting for the community to see how different candidates approach this task and to which conclusions they come regarding the grant proposal.

I will DM every candidate with the same text you got here and send them their challenge privately. I hope we can keep this private until the challenge is finished in one week.

Next Sunday, at 11 am CET, I will post the information about the challenge in reply to your application post and will include the response you sent me via DM in this post.

This will, in my opinion, be the fairest process to give everyone the same conditions without revealing a challenge that a competitor has to solve or making answers public that others could consider in their own approach to the problem. So everything will stay with me, and I am the only one who knows who gets which challenge and who replies what until the reveal.

I try to make sure that applicants who are part of the same project do not get the same grant challenge, so they cannot support each other.

Please reply within 24 hours if you agree to this challenge, and I will send you the Proposal.

Thanks again for offering your skills to the community. I hope you find this a fair approach to give the community some better insights.
All reviewers that replied have then been randomly given different types of Proposals to review with this request:
Okay, here is your challenge:

Please request access to this document.

Simple question: Would you approve the spending for this Proposal from the Shimmer Community Treasury based on the Shimmer Community Treasury Grant Committee - Version 2 1?

If Yes, why?

If No, why not?

Please send me your response until Next Sunday at 10 am CET.

I will publish it then at 11 am.

Let me know what you think. I have heard good feedback so far on the general idea. I know the process here might not be perfect, but I hope we all can learn something useful from it.
We extended the timeframe because we had some late applications, and I wanted to let everyone participate.
The Results: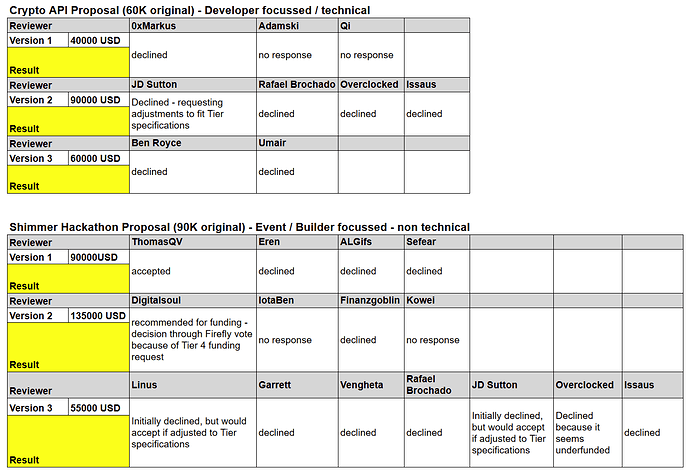 I gave the 4 Candidates for the Committee Lead Position both proposals to review.
All other candidates have been given proposals regarding the skillsets they have stated in their application. All responses have been sent to me in private, and I have kept them confidential till today.
The detailed answers of all candidates can be found posted in their Grant applications. We want to have it directly in the application because this is where potential voters should find all information about a Grant Reviewer.
Detailed Responses:
Grant Committee Lead Candidates:
Grant Reviewer Candidates:
The following candidates have not responded to my request or not delivered a Review:
The following Candidates have decided to withdraw their submissions and will not run for Phase 2 of the selection process:
I hope the information is found useful by the community and helps you to select the best Committee members for the Shimmer Community Treasury Committee.