1.) Preferred Display Name and Age
Display Name: Null / Rafael Brochado
Age: 30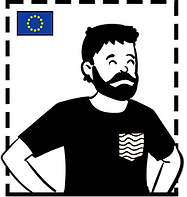 2.) Social Media Handles
Twitter: @rafaeldjpb - https://twitter.com/rafaeldjpb
Discord: Null#1163
3.) What motivates you to apply for this position?
I fell in love with IOTA's vision of a feeless L1 and joined the community in mid-2017. Later, after it became clear to us all that the original dev plan wasn't ever gonna work, I felt compelled to join the IOTA X-Teams and try to contribute in any way that I could.

Since then, I've been looking for opportunities to further support the community. It's been tough figuring out where my skillset may drive the greatest impact, but now, after reading through the Program Lead skills wishlist, I was surprised to see so much overlap with the skills that I have. So, having finally found a clear role in the community that I felt I could excel at, I decided to apply.

Long-time community advocate for transparency & decentralization
Worked with IF members to drastically improve our Discord, enable GH Discussions across all of our repos, improve Firefly, improve the Wiki, communicate ideas, and other small things
4.) What is your educational and professional background?
Educational Background:
M.S. in Interactive Entertainment, 2018
University of Central Florida

World's top Game Design program as consistently ranked by the Princeton Review
Awarded Fulbright Scholarship ($25,000) & FIEA Director Fellowship ($22,186)
Led a 16-person multidisciplinary team from whiteboard to Steam in a record-breaking 7 months
Led the pursuit of VR research which received over $1.3 million in awards
B.S. in Game Design - Summa Cum Laude, 2015
Polytechnic Institute of Bragança & Kajaani University of Applied Sciences

First-gen student
Graduated as top student; awarded the "golden diploma" for it
Perfect grade on practical training (internship at CoolGames, in Amsterdam)
Brokered a new exchange partnership with one of Finland's top universities, which has since then allowed dozens of students to travel there for year-long study exchanges (myself included)
Web3/Crypto Background:
Supporter, Investor (2012 – Today)

I started learning about Bitcoin by reading posts on bitcointalk.org around 2012 or thereabouts. Since then I've tried to keep up with the latest innovations & schools of thought in the DLT space. I enjoy reading through academic papers, participating in constructive discussions, and generally thinking about DLT adoption. If you've been in the IOTA community for a while, you may have seen some of the discussions I started in our Discord from time to time.
Professional Background:
Founder, CEO, Developer (2018 – 2022, 4+ years)
Not Suspicious – VR Research & Development Studio

Received over $1.3 million in awards from the NSF, Meta, HP, and others, for innovative R&D
Repeatedly featured at the Kennedy Center, at the invitation of the US Department of Education
Responsible for product design & roadmap, development, business, community management, recruitment, etc
Co-Founder, Administrator, Developer (2010 – 2017, 7 years)
Wartale – Massively Multiplayer Online Role Playing Game

Grew player base to 100K+ registered users, ~3K unique daily active
Free-to-play model with in-game transactions; very profitable; consistent growth year-over-year
Responsible for product design & roadmap, business, community management, recruitment, etc
Dev team peaked at ~8 people, plus another ~15 global mods, regional mods, Game Masters, etc
Co-Founder, Administrator, Developer (2008 – 2011, 3 years)
Mundo RPG Maker – Game Dev Community & Magazine

Mentored indie game devs, equipped them with the tools and resources for success
Grew the community to 100K+ registered users, ~3K unique daily active
Number of staff peaked at ~25 people, featuring global mods, regional mods, content creators, etc
Grant Reviewer (2021 – 2022)
SBIR grant program by the National Science Foundation (NSF)

Invited by the NSF to review Small Business Innovation Research (SBIR) grant proposals in the areas of Learning & Cognition Tech and Human-Computer Interaction
Guest Lecturer (2019 – 2022, yearly)
FIEA Ventures – Business Incubator at the University of Central Florida

Helping grad students pursue indie game dev, secure grant funding, work with Publishers, etc
VR/AR Coordinator (2019 – 2020, 1 year)
University of Central Florida

Supported grant-funded VR/AR research
Mentored grad students on VR/AR development and consulted with them on their VR/AR projects
Produced internal reports to keep faculty informed of relevant VR/AR developments
Technical Game Designer (2016 – 2017, 1 year)
LisbonWorks – Film & Games Studio

Worked with unconventional middleware and resource constrained set-top boxes to bring games and apps to millions of TV customers (working with AT&T, Telefónica, Altice, VimpelCom, etc)
Designed and prototyped a white-label games portal to be deployed on partner TV networks
Worked on 5 existing live games/apps; designed and prototyped 7 new ones, 3 of which shipped
Intern Game Designer (2015, 6 months)
CoolGames – Casual Games Studio

Always involved in the production and pre-production of multiple games at the same time, working on known IPs such as Tetris, Pac-Man and Snoopy (Peanuts)
Shipped 8 casual and social games for desktop browser and mobile devices
5.) What experience do you have that is relevant to this position?
XP as Grant Reviewer & Grant Awardee (2017 – 2022)

I have experience reviewing grant proposals for the National Science Foundation SBIR program, as well as with writing and pursuing grants, as the recipient of over $1.3 million in awards (see above)
XP as Builder, Leader & Manager (2006 – Today)

Experience with software design & development, shipping products, scaling businesses, growing ecosystems, managing large multidisciplinary teams, and more (see above)
XP as Mentor & Ecosystem Developer (2008 – Today)

Experience with mentoring grad students at UCF's FIEA Ventures business incubator every year since 2019, as well as equipping indie game devs with tools for success since 2008 (see above)
Expertise in Game Development (2006 – Today)

Web3 games appear to be a popular type of project proposal for Treasury DAOs, so my vast experience in game development will be critical in helping us identify & prevent misallocating funds towards proposals which aren't feasible. I have experience with many of the public game engines (Unity, Unreal, Game Maker, Phaser, etc), as well as a few proprietary ones (e.g. see Wartale above)
6.) In your opinion, which of the skills you obtain are the most important and valuable for this Grant Committee Lead position? If possible, provide proof of how and where you obtained those skills.
All of the skills and professional experience I listed above will significantly contribute to my ability to execute in this new role. The gamedev tech stack is incredibly complex, which has given me a lot of insight, and managing large multidisciplinary teams & communities has equipped me with good communication skills, sharp emotional intelligence and the ability to work in public, despite the pressures that come with it (trolls, etc).
7.) Are you a software developer? If yes, please provide info on your skills and proof of the projects you already have built/worked on (Github, languages, certificates, etc.)
Yes (see above). I have developed games & apps for VR, AR, mobile (iOS & Android), PC, consoles and browsers. I've worked with C#, C++, JavaScript, HTML5 and more.
8.) Are you willing to reveal and verify your identity through a KYC process? Will you also sign a binding contract as a full-time team member with the legal entity of the Shimmer Community Treasury Committee?
Yes to both.
9.) Can you commit to focusing the next 12 months solely on the Shimmer Community Treasury as Program Lead and be available 40 hrs a week, if not a bit more? As the Program Lead, you will not be able to work other side jobs or support other Dapp projects regularly. If acting against this, the committee will seek a replacement at that time.
Yes. I am passionate about our vision and I have full confidence in the tech the IF has built, so it'll be my pleasure to wake up every day knowing it is my job to support the growth of our ecosystem. I'll sink however much time is necessary - after all, I too am a stakeholder in the network and I want it to succeed. I have no plans to engage in other projects. When I commit to a project, I obsess over it.
10.) As the Program Lead, you most likely will support the Shimmer Community Treasuries' interest in the Growth Committee. This may require more time above and beyond the 40 hrs (paid hourly, of course). Are you willing to commit to this?
Yes.
11.) As a member of the Shimmer Growth committee, are you willing to sign a service provider contract with the Tangle Ecosystem Association and respect the included Non-Disclosure Agreement? Breaking the contract or Non-Disclosure Agreement may bring consequences financially and or legally.
Yes.
12.) Provide any web links or supporting documentation you would like the community to see when assessing you for the Shimmer Community Treasury Lead position.
N/A – links have been embedded in the answers above, when relevant.
13.) Do you have affiliations with any Crypto projects? The community would like to know particularly if you are involved with projects as a creator, on the board, or employed. Please list any projects or applications you have affiliations to.
No.
14.) What is your long-term vision of the Shimmer Community Treasury? How do you see the Community Treasury affecting the Shimmer & IOTA ecosystem, and what does the Shimmer & IOTA Ecosystem look to you in three years?
My vision for the Treasury is one that evolves every day to adapt to the needs and circumstances of our ecosystem, as expressed by the community in governance calls and forum discussions. Treasuries play a central role at the heart of every other DLT ecosystem, and ours will be no different, so it is important that we treasure it. I'm interested in exploring ideas for how we can potentially create a virtuous cycle that would feed new funds back into the Treasury over time (so we can keep supporting new projects indefinitely), but at the same time I am also acutely aware of our need to move fast in equipping community developers with the resources they need for success. So my vision is for that of a hands-on, nimble approach. We'll move fast when we need to, and slow down when we don't. I'll enforce the utmost rigor, professionalism, accountability and transparency, making it my personal mission to maximize our collective odds of success. We'll make sure that rejected grant applicants get guidance and mentoring through constructive, actionable feedback, so they can better position themselves and apply again in the future. Working in tandem with the community and the Treasury team, I'll continuously re-assess our areas of interest, strategic goals and growth metrics.

If managed carefully, the Community Treasury will transform our ecosystem. For hints on what that kind of success could look like, it's best to look at other DLT ecosystems and their respective Treasury DAOs as examples. Given the level of talent I've seen in our community, there's no doubt in my mind that we can not only match the success we've seen elsewhere, but surpass it.
Do you support my application as Grant Committee Lead?